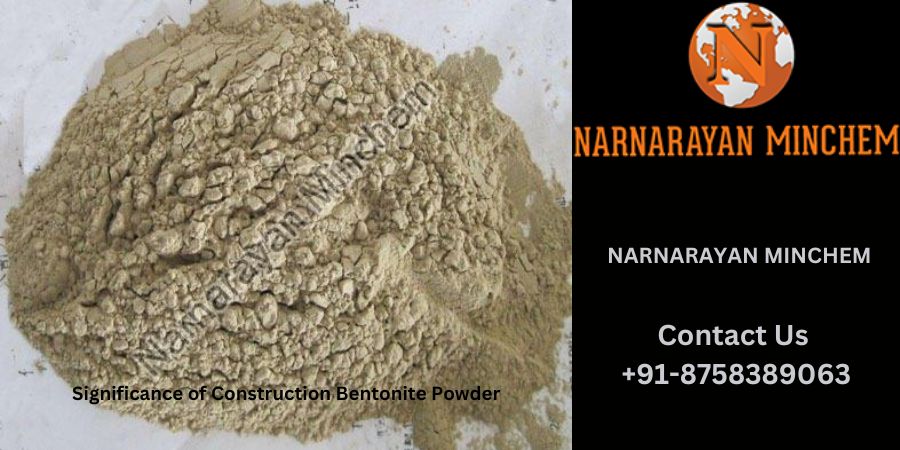 Clay has a very significant role in the construction industry. Bentonite is a type of clay available to be used at construction sites that can swell and gel when spread in water. It is used in construction work usually in excavation and foundation works.

Bentonite is of great commercial importance possessing innate bleaching properties like fuller's earth; hence, it is also known as bleaching clay. Containing more than 85% clay mineral, montmorillonite, it is high plastic clay. There are basically two types of construction bentonite powder available in the market. You need to contact one of the certified Construction Bentonite Powder Suppliers to get the following types, namely:

Swelling-type (or sodium bentonite)

Non-swelling-type (or calcium bentonite)

Sodium bentonite is usually referred to as construction bentonite, whereas calcium bentonite is called Fuller's earth.
Significance of Bentonite Powder in the Construction Industry:

The commercial significance of bentonite powder in the construction industry depends more on its physicochemical properties. Its chemical composition does not have any impact. These are like

• Excellent plasticity and lubricity,
• high shear and compressive strength,
• high dry-bonding strength,
• Low permeability, and low compressibility

All these properties make bentonite powder a commercially hit product.

Uses of Bentonite powder

• Bentonite is valued in
• foundry sand binding,
• drilling mud,
• iron ore pelletisation and
• as a waterproofing and sealing agent in civil engineering works

The acceptance and buying of bentonite powder as an essential construction element is still in its latent stage.
A high percentage of constructions and other civil engineering activities are still not using this product. In fact, these businesses are carried out without using bentonite. This is why they are incurring much higher expenses as they must use cast iron steel liners.

The awareness regarding the use of bentonite must be initiated in a good way. Bentonite is mostly used at the construction sites mostly in a fluidic (commonly called as bentonite slurry) form.

If you want to save more in your construction industry and build stronger buildings that commonly are built, get this useful powder from the Construction Bentonite Powder Supplier.

When it comes to getting high-quality construction powder, one must check the features the supplier has:

A wider range of products:
Whether the supplier can provide all types of bentonite powder for construction purposes or not. You need to ask them for the availability of the API, IOP, mud gel, agricultural, and mold bond bentonite powder.

Compare prices:
When you are purchasing things online, you have the benefit of comparing prices first and then placing the order. First, do your analysis and then ask for a revision in price quotes.

Confirm for a nationwide delivery:
Check for the states they can supply if you are out of the place where the supplier resides. Also, this feature will help you get doorstep delivery, anywhere you have the demands.

Customisation in bulk orders:
Leading and certified suppliers meet tailored bentonite powder demands based on the specific requirements of construction projects. This may involve adjusting the particle size, packing size, quantity or other properties of the bentonite to meet the project's needs.